Hello again, sorry been awol for a bit but hoping to get back on track...again. This time at Pile It On we would like you to use the colours of your national flag. We are sponsored by the fabulous A Day For Daisies who are offering 3 images of your choice as a prize.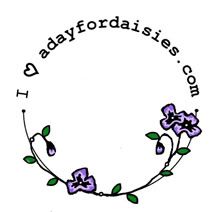 I went with the fabulous Vintage Dog Walk. As soon as I saw it I though of my daughter. I think this will be her in a few years time but maybe with more or a bigger dog. I coloured this with my pencils.
I used a template to make the card and used some washi tape to cover the front as it was red and blue like the flag.

Thank you as always for popping by and any comments are always read with great appreciation.